DLA-PCB - Dual Input DMX 512 LCD Analyzer / Tester PCB Design your own enclosure with an analyzer / tester display or add to your existing equipment or system. The DLA-PCB is a 16 x 2 DMX512 / DMX LCD back lit data analyzer display unit. The DLA-PCB displays any of the 512 channels and shows the numeric levels currently on those channels in either; decimal (0-255), hexadecimal (00-FF), percentages (0-100%), or bar graph (displays 24 channels at a time) allowing the user to scroll to any channel and monitor the levels. The 4 buttons [ +, - , 10, 100 ] will scroll thru the DMX channels for viewing, by holding down the ' - ' button and pressing 10 or 100 will subtract by 10 or 100. The Stats display shows the packet size, start code, and rate or (frequency).
Also features a dual input selection in programming, if your installation needs a front and rear connection, the user can easily change from the 'A' to 'B' input simply by making a front selection change. The LCD's backlight is easily adjusted with front access software setting for easy changes in those dark control room environments. The
auto dim
feature allows the user to set the time and dimming value. This is useful if your using battery power.
PCB Overview

FEATURES INCLUDE:
Bar Graph Display (Displays 24 Channels at a Time)
Decimal Display
Hexadecimal Display
Percentage Display
Statistics Display
Auto Dim (User Set Timer)
Dual Input Option
Optional "Auto Off", "Low Battery" Features (requires an additional pcb, see below)
The fully assembled PCB (printed circuit board) assembly consists of 3 boards; the 16 x 2 back lit display, detachable 4 button and contrast board, and the control board (see the side view image). The PCB includes a clear LCD cover that mounts with adhesive strips on your custom enclosure. +5VDC input or with the onboard +5V regulator, the DLA has a +7V ~ +15VDC input voltage range.
PCB's Dimensions: 5.02" x 1.75" x 1.6" / LCD Dimensions: 2.8" x 1"
LARGE CONNECTION VIEW
pdf
DRILL TEMPLATE & WIRING DIAGRAM
pdf
DLA USERS MANUAL and TECHNICAL SPEC
pdf
DLA Configuration Example & Block Diagram
jpg
DLA PCB INCLUDES:
Preassembled DLA PCBs (Printed Circuit Board) Assembly with (6) .5" standoffs and screws
The PCB assembly consists of 3 boards, 16 x 2 LCD, control board, and a detachable 4 button and contrast board.
Drill Template and Wiring Diagram
(2) 120 ohm Terminating Resistors
Enclosure Labels: Black on Clear or Black on White Replacement Labels

pdf

Clear Bezel (Enclosure LCD Cover)
Additional PCB Installation Info

---
For battery operation an optional SSVM Sub PCB can be installed
SSVM -PCB $39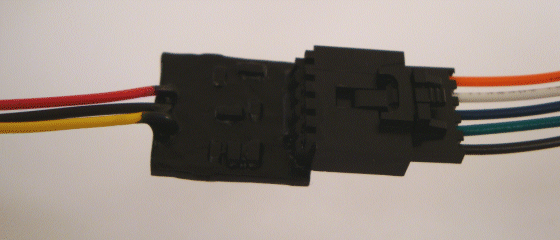 (Free floating, coated PCB, with connector)
Adds the "Auto Off" Feature (requires a momentary on/off power switch)
Adds the "Low Battery" Feature (Displays if the voltage drops below a specified value)
SSVM Wiring Diagram
.pdf
---
---
Battery Kit
Battery Installation Kit $49
SSVM Sub PCB
Momentary Switch
6 AA Cell Battery Holder
SSVM Kit Wiring Diagram
.pdf
---
Quick Connect Terminal Option