Manufacturer: ELM Video Technology




Model: DMG-PCB




Name: DMX Merger




MPN: DMG-PCB

UL Listings: PCB pre populated

Condition: New




POWER INPUT: +5VDC




PCB FUSE: 500mA thru hole




POWER: Apx 160mA




DATA TYPE: DMX 250Khz




DATA INPUT: DMX - Pin 1 - (Shield) Not connected, Pin 2 Data - , Pin 3 Data +




DATA OUTPUT: DMX outputs - Pin 1 - Power supply common, Pin 2 Data -, Pin 3 Data +

RDM: No

Dimensions: 2.77" x 1.45" x .77" (including standoffs and screw terminals)




Weight: 2oz
3 digit programming display PCB, a user interface with display to change and view the merge settings.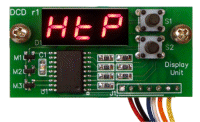 3 Digit Display Connection Diagram
Chipset upgrade - The chipset upgrade replaces the 3 input/output IC's with TVS (Transient Voltage Suppression) isolation on each of the 2 inputs and the output of the merger (special order, may delay shipping).
6 Inch Wire Leads (Installed)

Power Connector (Mates with listed power supply)

5V Power Supply

DIN Clips for 35mm Rail - Clips are mounted on the PCB and will snap onto a 35mm rail
DIN Rail 8"
LED mounting style, top mounted if the unit will be installed with access to the top of the PCB, bottom if the enclosure will have external LED accessibility, and uninstalled if unsure of the mounting style or the LEDs will be extended to the front panel.

Enclosure Labels: black on white, black on clear, or download ENCLOSURE LABELS and LEGEND
This DMX Merger PCB is used in our DMX merger products. The PCB can be installed into a DYI enclosure or mounted on a DIN rail. Two or more can be ganged together to merge as many inputs as needed. They can be pyramid or series connected to increase the input requirements, and each PCB can be setup in a different merge mode if needed. Screw terminals included. See the merger full description category page for merge mode types and more information. To "Add to Cart" select the LED mounting style required.