DMX CONTROL WARNING: NEVER use DMX data devices where human safety must be maintained.

NEVER use DMX data devices for pyrotechnics or similar controls.

Manufacturer:

ELM Video Technology

Name:

DMX 0 to 10 Volt Analog Converter Switch Relay Driver



Description:

The DX10V converts a DMX-512 input to a variable 0 to 10 volt analog output.

MPN:

DX10V-8-DC3P

Model: DX10V
UL Listings: Power supply, PCB pre populated
CHASSIS: Anodized Aluminum .093" thick RoHS compliant
Internal Fuse: SMT 750mA

Power Input: +12VDC apx 400mA (values apx, some circuits may vary)

4 Channel: no load:64mA full load 145mA

8 Channel: no load 70mA full load 230mA

12 Channel: no load 76mA full load 316mA

16 Channel: no load 82mA full load 402mA

Voltage Output: 0~10VDC, (500 ohm minimum load)

Source Output Current: 20mA Max each

Sink Output Current: 10mA Max each

DATA TYPE: DMX (250Khz)

Data Input: 5 (or 3) pin female XLR, [Pin 1 Not connected, Pin 2Data -, Pin 3 Data +]
Data Loop Output: (If equipped) 5 (or 3) pin female XLR, [Pin 1 Looped from pin 1 of input XLR, Pin 2Data -, Pin 3 Data +]

Dimensions: 3.7 x 6.7 x 2.1 inches

Weight: 1.5 pounds

Operating temperature: 32°F to 100°F

Storage temperature: 0°F to 120°F

Humidity: Noncondensing

Refresh Rate Per Second: 4 Ch's = 1162, 8 Ch's = 571, 12 Ch's = 384, 16 Ch's = 285 (amount of times per second the outputs are updated)

Output Connections: detachable 9 pin screw terminal
External Power Supply: +12VDC wall mount
Voltage Input: 100 ~ 132 (or 240) VAC
Current Output: 1 Amps
Power: 12 Watts
Polarization: Positive Center
Female Plug: Locking Barrel Plug, 2.1mm I.D. x 5.5mm O.D. x 12mm
Equipped with 3 pin XLR connectors, optional 5 pin XLR's option available
Equipped with a single DMX input, optionally add a loop thru with 3 or 5 XLR connectors (terminate if unused)
Equipped with 8 outputs, optionally add 8 additional for 16 outputs
Mounting flanges - allows the unit to be counter top, under counter, or wall mounted


The DX10V converts/decodes a DMX-512 input to a variable 0 to 10 volt analog output. Control 0-10 volt LED drivers or dimmers, for example, from a DMX lighting board or DMX controller. Also has a 'switch' option for controlling solid state relay's (SSR). Each output can source up to 20mA and sink up to 10mA. Each output is assigned to a consecutive DMX channel and will vary from 0 to 10 volts in respect to the corresponding DMX channels' level. Standard unit has 8 channels, available with 16 channels. Includes power supply. See the DX10V 0-10 volt full description category page for more information. Note: If custom output voltages are required, most can be preset, for example 0-5 volts, 0-20 volts, 0-24 volts etc-contact us for custom voltages.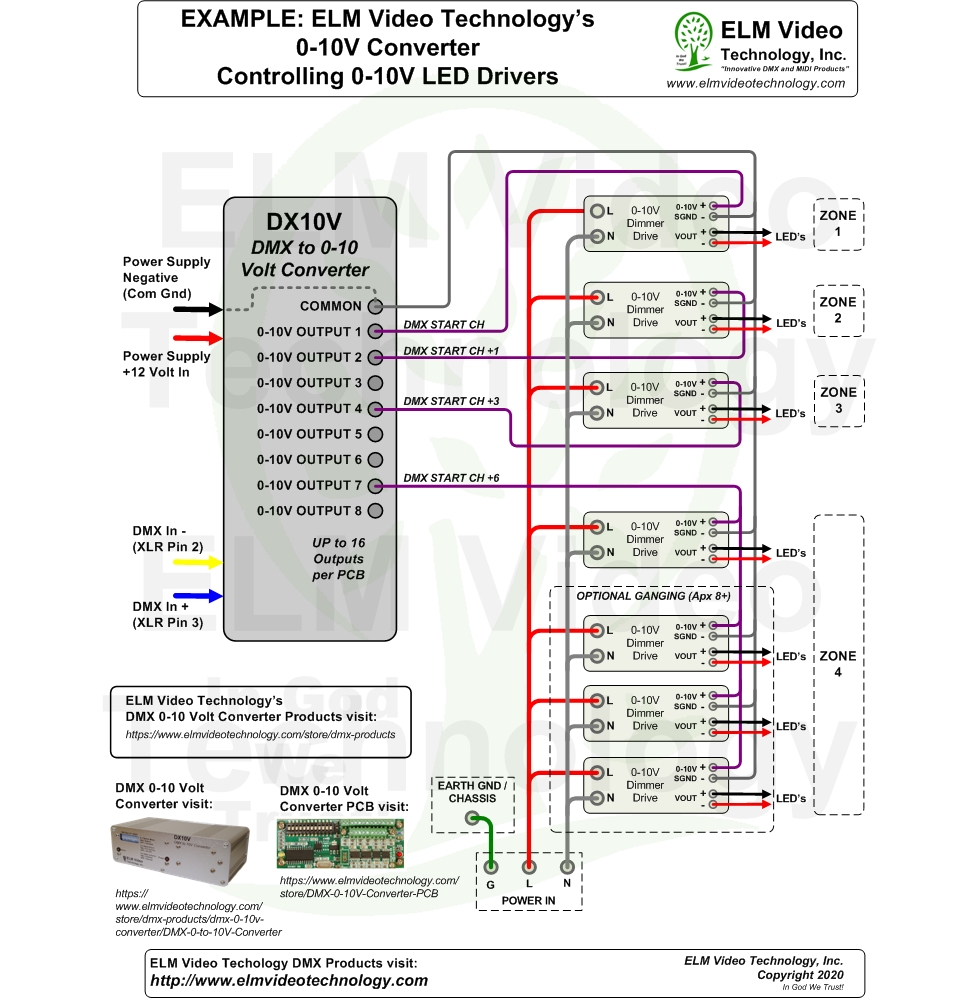 EXPAND

DMX 0-10 Volt Analog Converter
$299.00

---

5 or more $284.00
10 or more $269.00
Related Products
Tags: DMX, 512, 0-10, volt, converter, 8, 16, channel, 10V, dimmer, driver, analog, dx10v, control