DMX CONTROL WARNING: NEVER use DMX data devices where human safety must be maintained.

NEVER use DMX data devices for pyrotechnics or similar controls.

Manufacturer:

ELM Video Technology

Name:

DMX 0 to 10 Volt Analog Converter



Description:

The DX10V converts a DMX-512 input to a variable 0 to 10 volt analog output.

MPN:

DX10Vr-8-DC3P

UL Listings: Power supply, PCB pre populated
Condition: New
Model: DX10Vr
CHASSIS: Anodized Aluminum .093" thick RoHS compliant
External Fuse: 2A 5x20mm
PCB Fuse: SMT 750mA
Voltage Output: 0~10VDC, (500 ohm minimum load)

Source Output Current: 20mA Max each

Sink Output Current: 10mA Max each

DATA TYPE: DMX (250Khz)

Data Input: 5 (or 3) pin female XLR, [Pin 1 Not connected, Pin 2Data -, Pin 3 Data +]
Data Loop Output: (If equipped) 5 (or 3) pin female XLR, [Pin 1 Looped from pin 1 of input XLR, Pin 2Data -, Pin 3 Data +]
RDM: YES E1.20 Compliant [Software V8.20+]
Dimensions: 19 x 1.75 x 8 inches

Weight: 9 pounds

Operating temperature: 32°F to 100°F

Storage temperature: 0°F to 120°F

Humidity: Noncondensing

Refresh Rate Per Second Per PCB: 4 Ch's = 1162, 8 Ch's = 571, 12 Ch's = 384, 16 Ch's = 285 (amount of times per second the outputs are updated)

Output Connections: DB9 Female
External Power Supply: +12VDC wall style
Voltage Input: 100 ~ 132 (or 240) VAC
Current Output (Min): 2 Amps
Polarization: Positive Center
Output Connector: Locking Barrel Plug, 2.1mm I.D. x 5.5mm O.D. x 9.5mm
See the DX10V Product Page and the DX10V-PCB for addtional specifications
Equipped with a single DMX input, optionally add a loop thru with 3 or 5 XLR connectors (terminate if unused)
Front power switch is optional
Equipped with 8 channel outputs, optional 16 ~ 64 channel outputs
** Now RDM E1.20 Compliant. Remotely setup and modify changes with an RDM Controller.
The DX10Vr is a DMX to 0-10 volt analog converter (other voltages available) in a 19" 1RU rackmount enclosure. With the customizable 1RU enclosure, add features or design your own. The 12" deep enclosure has plenty of space for additional circuitry that can be added (factory or end user). Many possibilities are available! Call or email sales for your custom configuration or design needs. Includes solderless DB9 screw terminal connector(s) and external power supply. Base unit has 8 outputs, optionally add up to 64 outputs. See the DX10V Product Page and the DX10V-PCB for additional functional definitions and information. Note: If custom output voltages are required, most can be preset, for example 0-5 volts, 0-20 volts, 0-24 volts etc-contact us for custom voltages.

Stock photo front and back example shown.
For optical or buffer protection see these options: Inline Opto Isolator PCB, In line Buffer PCB, Full Optically Isolated Buffer, or Full Optically Isolated Buffer.

Call or email sales today!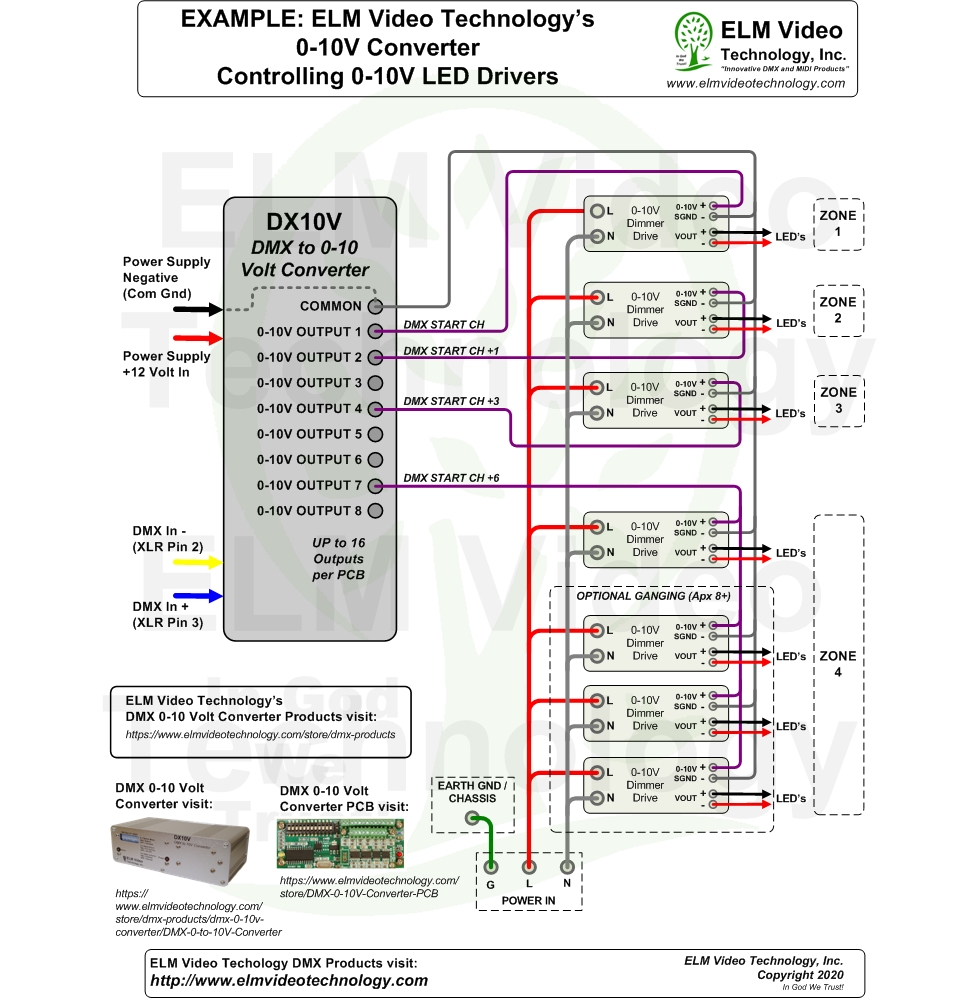 EXPAND

DMX 0-10 Volt Analog Converter 19" 1RU Rack Mount
Related Products
Tags: DMX, 512, 0-10 volt, converter, dimmer, controller, analog, dx10v, 1U, 1RU